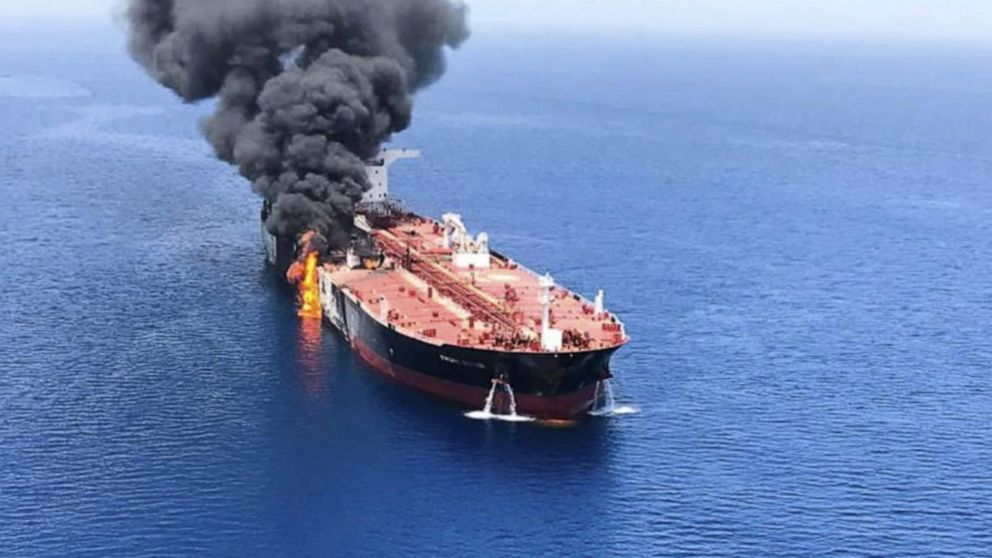 A lot to talk about this week. On the geopolitical front, we ended the week with a bang in the Middle East. On the economic front, we have a plethora of central bank rate decisions. It will be quite the week.
Youtube video can be seen at: https://www.youtube.com/watch?v=Bx13SJuy710&feature=youtu.be
I expect the markets to be steady until the big Fed rate decision on Tuesday, but any news on Iran may change that.
If you have not heard, a Japanese oil tanker was struck by torpedoes and the crew had to be rescued. A lot of different stories here. We are not sure if it was torpedoes, mines, an air strike, or even land based missiles which struck these ships. The Iranians claim they rescued the crew of 44, meanwhile the Americans denied this saying that they actually rescued around 20 of the crew.
Iranian Foreign Minister Javad Zarif took to Twitter to say that the Japanese PM Shinzo Abe is in Japan speaking with President Rouhani regarding peace (maybe oil too), and that there is no reason for Iran to do this…sort of implying Iran is being set up.
Footage has come out showing a supposed Iranian boat trying to remove a mine that is near the ship. However, this footage is extremely grainy, and the UN Security Council has even admitted that a further investigation will be required.
President Trump and Mike Pompeo were quick to come out stating that Iran is responsible for the attack. A few days after, the Saudi oil minister also came out condemning the Iranian aggression and is on the same page with President Trump. We know the Israeli's are as well.
If you follow my blog and my work, I have talked about why I expect a strike on Iran. Why? The US need to protect the US Dollar at all costs. I have outlined how China and Russia are preparing to lessen the US Dollar's influence, and Iran is a key for this. They are doing this through oil, which is generally paid by US Dollars, hence the petro dollar. This always creates an artificial demand for US Dollars, the French calling it exorbitant privilege, which allows the Federal Reserve and the US government to print more Dollars, and not worry about large deficits and debt.
For China to be able to hurt the US by selling off US debt, they need to hit this Dollar demand first. If they sell off the debt now, there are tons of buyers who would step in domestically in the US (pension funds), and European money managers…who would rather hold US treasurys yielding positive instead of long term European debt yielding negative.
Iran accepts any other currencies for their oil except the US Dollar. As the US Dollar has gotten stronger, and decimated some currencies like the Turkish Lira and the Indian Rupee, more nations are keen to not use the US Dollar to settle energy payments. Some European nations, Japan, South Korea, Turkey and India have become Iranian customers. This has taken away market share from the Saudi Arabians and other Gulf states, and they are angry.
It should be no surprise that Saudi Arabia came out supporting some sort of action against Iran after these attacks. It benefits them greatly. The US is pretty much mandated to protect OPEC nations, especially Saudi Arabia, for holding this Petro Dollar system. Saudi Arabia can also stop accepting US Dollars if they wanted to, but this is their weapon that they can use to influence American foreign policy and geopolitical moves. They did threaten to drop the US Dollar, and I am sure they said that if the US wants to prevent this, then they have to deal with Iran.
This strike would also be a message to China. I am sure President Trump's advisors have told him about the weaponized debt and how the US must maintain and protect the US Dollar demand. If you follow my work, you know why the US only option is their military (blocking Chinese shipping lanes, maintaining their space supremacy) and this is echoed in many geopolitical books that I have recommended in my US-China Thucydides trap. President Trump would be telling China that America is willing to take military action if required.
Taking out the current Iranian regime, and installing someone who would accept US Dollars for Iranian oil would be a blow for the Russians and the Chinese. Iran is a key node to their geopolitical ambitions. They have recently been focused on Venezuela, investing in their oil sector to bring Venezuelan oil production back to par, and very likely the caveat is for Maduro to announce Venezuela not accepting US Dollars for oil just like Iran. However, Iran remains key for China's silk road, and also a lot of Russian energy investments are in Iran, and is crucial for them to maintain energy dominance in Europe.
Lastly, I believe President Trump has to show strength. He cannot look weak. The Russians and the Chinese loved President Obama because he was weak. Russia and China advanced a lot of their geopolitical goals, and it was only in President Obama's last year in office did he pivot to Asia.
Keep an eye on this. It seems we are building up to this because the Americans know they have a limited window to act using their military.
We have the Federal Reserve, Bank of Japan, and the Bank of England all on tap for this week. The two latter are not expected to do much, the former is the one everyone will watch.
The biggest surprise the Federal Reserve can make is to come out more hawkish and talking about rate hikes in the future. The market would not like this. This is a low probability outcome, market has priced in no more rate hikes.
The market is pricing in rate cuts. My last blog post, and my video on youtube has outlined why the Federal Reserve must act, and act soon. Just look at the yield curve and the Fed Funds rate.
So the two options for this week, are that the Federal Reserve either cuts interest rates, OR they create an environment and lay the ground work for a cut in the upcoming FOMC meetings. I personally believe that the Federal Reserve must act quickly, so expect a rate cut either this month or next month.
Monday: GBP Inflation Report Hearings.
Tuesday: RBA Minutes, ZEW Economic Survey (June).
Wednesday: GBP CPI (May), BoC CPI (May), FOMC Rate Decision.
Thursday: RBA Governor Lowe Speech, BoJ Rate Decision, BoE Rate Decision.
Friday: CAD Retail Sales (April).
Still the important chart for this year and the future. The US Dollar is not really doing anything of interest following my trading strategy, but watch the 98.00 zone. Everything depends on what the US Dollar will do. People will need to realize that even when the Fed cuts rates, the Bank of Canada, Royal Bank of Australia are also cutting rates…what currency would you still hold? Money will still be going into the US Dollar, and this is the predicament the Fed and the US government are in. They will try to weaken the dollar, but money will still flow into the Dollar for many reasons I have discussed throughout this blog, which will exacerbate all the world problems.
Not much to say on Gold for this week other than it failed to have a weekly close above this major 1360 zone. Very important zone discussed in past blog posts and youtube videos. If Gold can sustain the 1325 zone, there is a chance it can push higher to break above this zone. Then, it becomes a matter of sustaining the break.
Again, I watch Gold as my confidence crisis asset.
The S&P is looking ready to flip over, but nothing confirmed until we get the break. We can be making a lower high pattern here, but we need a close below the 2875 level.
Again, if any drastic geopolitical decisions are made, the market may sink lower. But it really is about the Federal Reserve now. I have spoken about my thoughts on the new mandate of central banks: keeping assets propped up. This is a good example, where the market is waiting for a confirmation for the Fed to allow cheap money to enter these markets, and perhaps even a return back to QE.
If we see the dovish Fed, as everyone expects, then watch for 2905 to be taken out and the move to continue higher, eventually into new all time highs.
I have outlined why stocks must move higher, and must continue to move higher.
I don't have much to say on Oil currently, but due to the geopolitical tensions, we need to discuss it.
We did have a nice pop when the news came out about the oil tanker getting hit…however, you can see the move did not carry through. Oil still remains under pressure. We can very well be making a higher low here, before moving up, but that remains to be seen.
The 54.00 zone is one to watch, and it is a lower high on the daily chart. I would await this zone to break before going long.
I like what I see here on AUDCAD, nice test of a support zone after a long downtrend. Expecting a reversal here, but waiting for the break above 0.9220. NZDCAD is another pair that is at a support level, but it has not made a range type pattern that we see here on AUDCAD, so it is still too early. Perhaps by Wednesday NZDCAD will have some sort of basing pattern that we can work with.
GBPNZD was a trade that I took last week and was a great trade. Took the break at the 1.9200 zone, and rode it up. We have made our first higher low here, and remember, we expect multiple waves to be made (minimum 2). Interestingly, we have created a cup and handle pattern here which is looking good and adds more confluence for an upside move.
The EURAUD is at an important resistance zone here. You can see the sellers here with the red rejection candles. Awaiting for the higher low swing to break at the 1.6285 zone before entering. Nice uptrend and a topping pattern here adds nice confluence for this trade. Awaiting the break.
Seems like I am always talking about EURGBP, however the uptrend seems to be losing steam. This will be confirmed once we break below 0.8870. Awaiting the break.
USDCHF had a nice break on Friday, and a nice run. Will be watching for some sort of pullback and making a higher low for the second wave in this uptrend.
Silver is looking good here. Again, be patient, await for the break. There is a chance we are making our first higher low here on the retest of a major flip zone. This higher low is confirmed once we make a higher high, so a break and close above the 15.00 zone.