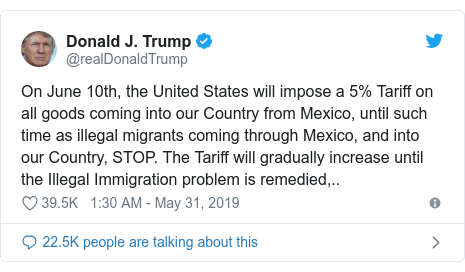 The accompany video can be seen at: https://youtu.be/sPN5Y_Iny8A
The past week was all about tariffs, and this upcoming week is already beginning with even more tariffs!
First of all, I need to remind people that tariffs are paid by importers and exporters of certain countries, who then pass the costs to the consumers, meaning goods become more expensive.
I know President Trump talks about how this economy is the strongest ever…but the calls for QE and cutting rates speaks to something else. Consumers will need access to more debt and cheap money to survive. More on rate cuts soon.
The week began with China threatening saying 'don't say we didn't warn you' https://www.cnbc.com/2019/05/29/dont-say-we-didnt-warn-you—a-phrase-from-china-signals-the-trade-war-could-get-even-worse.html
I have spoken throughout the months about China having a lot of ammunition for this trade war, and there has been rumours about China stopping rare earth metal exports. China controls about 70% of the worlds supply. American pundits saying this won't impact America because they can just open mines in the States or Canada…however this will take time. The environmental permitting and building the mine etc takes time.
China then said they would halt soy imports from America: https://www.cnbc.com/2019/05/30/china-makes-next-move-in-trade-war-reportedly-halting-us-soy-purchases.html
This means that American farmers will need MORE bailouts…and they have already been getting bailed out by the government.
Then on Friday, President Trump announced a 5% tariff on Mexico effective June 10th, citing border and immigration issues. Tariffs can go to 25%.
Just yesterday, it was announced that China has issued retaliatory tariffs on 60 Billion dollars worth of American goods. The tit for tat tariffs will continue.
It has been announced that President Trump has now terminated India's designation as a developing nation under their trade program, which allowed India to export goods into the US duty free. This comes after Modi got re-elected, and the same treatment was shown to Turkey, also losing their preferential trade status: https://www.zerohedge.com/news/2019-06-01/trump-declares-trade-war-india-imposes-new-tariffs
These are more to do with geopolitics. I have discussed how Turkey is slowly edging towards the Eastern sphere… what really ticked off the US was the Turks agreeing to buy Russian military equipment.
With India, it has to do with Iranian oil purchases. As the US Dollar gets stronger, more nations will not want to use it for oil payments. India's Rupee (also the Turkish Lira) have been decimated. Both nations find it attractive to buy oil from Iran who take currencies other than the US Dollar (stealing market share from Saudi Arabia and other Gulf states). European nations, Japan and South Korea have also followed India and Turkey in purchasing Iranian oil and the US is upset.
Before we look at charts, I want to speak more about the markets.
We have seen a lot of bad news coming in (Tesla, Uber) and now, as I have said and expected, all eyes are on the Fed…whose mandate is now to keep asset prices up. Many are now saying a 50 basis point rate cut is on the cards. The bond market is showing this.
A big drop on the 2 year.
The 10 year started the week at 2.30 and finished the week at 2.14. Remember, the debt market is the largest in the world, and a move like this means a lot of money was involved. Will we see the 10 year go under 2% as well?
The Fed funds rate is at 2.42%…
My readers know that I have always spoken about following the bond/debt market. A rate cut is coming as the short end is now going higher while the lower end is declining. The Fed will act.
I think this will be a catalyst for the stock market to pop higher. Many are saying that this rate cut is already being priced in. The stock market should have fallen more dramatically and lower, but it seems now people are front running the eventual rate cut. Expect it sooner rather than later. I continue to watch the reaction at the 2720 zone of the S&P 500 as discussed per last week. There is plenty of room to the downside, but let us see if lower rates (and potential QE) will buoy the markets, or will trade war rhetoric and tariffs drive stocks lower.
Remember, President Trump did say we need to cut rates and go to QE to win this trade war. As the US consumer has to pay more for the tariffs, they will need access to cheap money and more debt.
On the bearish side, many analysts, Jeffrey Gundlach being the most prominent, are saying that we are in a bear market for stocks, and that we have already seen the top.
The Economic calendar is packed for this week. Since it is the beginning of the month, we will have NFP data, but I want to address the fact that the Royal Bank of Australia is expected to CUT rates 25 basis points to 1.25% this week on Tuesday.
Monday: Caixin Manufacturing PMI (May), US ISM Manufacturing PMI (May).
Tuesday: AUD RBA Rate Decision, RBA Governnor Lowe Speech, Powell Speech.
Wednesday: AUD GDP Q1, US ISM Non-Manufacturing PMI (May).
Thursday: Eurozone GDP (Q1). ECB Rate Decision and Monetary Policy Statement.
Friday: US Non-Farm Payrolls (May), CAD Employment Data (May).
Not going to speak much on the US Equities, since I have covered this move for the past few weeks, and have moved as expected. Nice patterns displaying a first lower high in this downtrend. Generally, we expect two swings, so there is a possibility that we can continue lower. Again, the 2720 zone on the S&P, as well as the other designated areas in blue will be telling when we see how price reacts.
The German Dax had the daily close break on Friday, so this chart has a bit better risk to reward in my opinion. You can also see the nice trend that has broken, and we have our first lower high.
My opinions on bonds has been expressed a lot during this blog, I still think long bonds will be a good trade as interest rates will be going lower. The Euro Bunds chart made a break into all time highs last week.
For Europe it makes no sense with rates yielding negative…however, Bonds are still seen as a safety play. I can see bonds in the US, Canada and Australia go higher as rates are cut so this can perhaps give some strength to European bonds as well even though it does not make sense. But this is the reality and environment we live in.
EURGBP did not trigger last week, however, still on the radar for this week. We did have a breakout and now are retesting. If we get a close above previous highs of 0.88665 I may be interested. I would prefer a downside move however, ideally seeing a fake out here before moving lower.
Spoke about AUDUSD last week, and it is still on the radar for this week. Nice bottoming pattern here, maybe even a cup and handle. Want to see a nice break and close above the 0.6940-50 zone.
A nice 2 hour set up on AUDNZD. A nice topping pattern and a break. Unfortunately, it happened on a Friday, so I would like to see price retrace and provide a retest for a new entry this week.
A continuation play here on AUDJPY. Had a nice break of a support zone on the daily. If you look at the 4 and 2 hour charts, you can see we have even retested this break. Might be a good play as markets drift lower as well.
EURAUD was on the list last week, and is now retesting the zone it broke. This can go either way, but I prefer the downside. We could confirm a lower higher here with a break of 1.6064 zone. However, the 1.6140 zone looks okay on the shorter term charts (2 hour) for a possible move higher. Had a downtrend with multiple waves, and forming a bottoming, head and shoulders like pattern.
EURNZD was on last weeks list, and now it has created more confluence patterns. You can see the head and shoulders topping pattern. Will be watching for a break and close below the 1.7050 zone.
Very nice pattern here on GBPCAD. Nice downtrend, and now we are showing a bottoming pattern with a potential higher low forming here. Awaiting the confirmation of this which requires and break and close above the 1.7115 zone.
NZDCHF is another late continuation play. Broke a major level, and now appears to have rejected this zone on the retest. Some can argue that this can be the first swing (lower high) for the downtrend. Will watch this on the daily and the 4 hour chart for a close making lower lows.