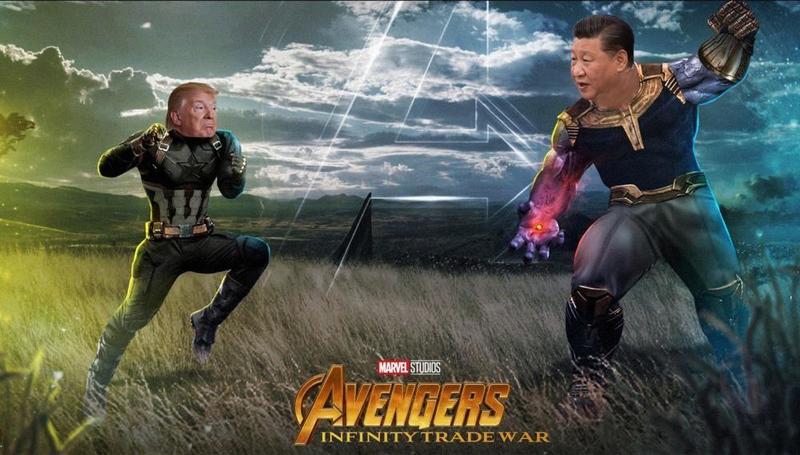 Before I begin, I just want to plug my new Youtube Channel. There will be a lot of trading information, and also audio clips regarding economics, geopolitics and history. I am also striving to do a weekly chart analysis so you can see how I go about preparing for the week ahead. You can watch this weeks video at: https://youtu.be/2DHAgsYxbQ4
With the release of the box office hit Avengers End Game, it seems that even the US-China trade war has now reached epic status. Not just a trade war anymore folks, but an Infinity Trade War!
Let's face it, that's what this week was all about. Sunday night it seemed that markets would be looking to retest previous highs, and then it came out that President Trump would increase tariffs from 10 to 25% on 200 billion dollars worth of Chinese goods by Friday May 10th if no deal was reached.
I have spoken on why I am not a fan of tariffs. They are a tax on the consumer…especially at a time when living costs and fuel costs go higher and higher, people should now expect to pay higher for goods imported from China or use Chinese materials.
Just a wild week, and I have outlined many times how anything will be done to prop these markets. President Trump went from saying he received a "beautiful letter" from President Xi, to then saying the Chinese reneged on a deal…while China denied such claims and said they would retaliate.
If you read my blogs and follow my social media, I have spoken on how I believe China holds the leverage. They will now back down. When I saw that President Trump was taking this hard stance, I thought that both sides would come with a "pause" or "ceasefire" stating something like : China has agreed to buy more American exports by 2025. Basically just delaying further talks.
However we did not get that. The 25% tariff was imposed… and markets soon afterwards shot higher. Many saying on comments from Treasury Secretary Steve Mnuchin. Mnuchin came out saying that US-China talks were "constructive" then 30 mins afterwards came out saying that talks have ended and there is no date or schedule for further talks.
Now is the time for you to go back and read my Thucydides trap blog post, where I have outlined why the US and America are destined for a show down, and why China holds the most of the leverage.
Do not let the trade talks distract us from the fact that China and Russia are taking action to dethrone the US Dollar…this is why I believe they are in Venezuela…to make Maduro officially drop the US Dollar for Oil payments.
Interestingly enough, the US also sent a naval carrier group to Iran after the Israeli's notified the Americans about an Iranian plot to strike American troops.
Again, my readers and followers will recall that Iran is the important node for the Russians and the Chinese…but more importantly, Iran sells Oil for any other currency except the US Dollar. This has seen the Saudi's lose market share as Europe, Japan, South Korea, Turkey and India have started to buy Iranian Oil as the US Dollar gets stronger.
Venezuela and Iran are the nations we need to watch on the geopolitical front precisely because once the US Dollar demand takes a hit, when the Chinese sell American debt, it will have more of an effect.
One very interesting point, which I covered in my last blog post, was the idea that President Trump did this as a way to make markets drop so he would force the Federal Reserve to CUT interest rates. It would be quite the gambit.
This will ONLY happen however, if you look at the Fed through the lens of a different mandate. The current mandate is that the Fed maximizes employment, and handles inflation…so using that mandate, they would not cut rates.
However, I argue the mandate now is to keep assets propped no matter what. They can save face and avoid a confidence crisis here by saying "we are cutting and going to QE because of trade war effects on the market, this wasn't our fault, everything was going well etc etc". It seems we are on the road to zero percent interest rates, and QE. This is where the mercantilism/Keynesian economics is taking us. Japan is the best case scenario.
We shall wait and see. As I mentioned earlier, US equities erased their large drops and closed close to their highs. Unbelievable.
We are living in interesting times, and we will see the US and China keep butting heads. We have two leaders who cannot back down. They want to come out as the winner. As Jeffery Gundlach has said "it is an unstoppable force meeting an immovable object". Things will escalate.
This is the type of environment we are living in, and things will get worse as we face a social, economic and political crisis.
Tuesday: EUR Harmonized Index of Consumer Prices (April), GBP ILO Unemployment Rate (March), EUR ZEW Economic Survey (May).
Wednesday: US Retail Sales Control Group (April), CAD CPI Core (April).
Thursday: AUD Employment Data (April).
Let's get to the charts. So Equity markets and Yen pairs do have daily set ups for short AND a long opportunity on the lower time frames. Be careful, and await candle closes. If you take the trade on the daily chart, wait for the daily candle to close, do not make mid candle decisions. Let the markets digest all this US-China trade talks information. Focus on swing points. More on my watch list can be found on my youtube video.
The S&P just very choppy. I am watching the 2890 zone here, and if we can get a close above this swing zone, we can probably retest all time highs before creating new all time highs. Can we continue lower? Of course, but I would like to see quite the bearish candle at this zone and make new lower lows breaking the 2850 zone.
The Nasdaq and Dow Jones 30 are similar looking. I will not post those charts here but go over them on the video.
The UK FTSE was a great trade for me last week, and after a downtrend with a couple of waves, it seems we are basing at a flip zone area, and perhaps ready to move up. Again, I will repeat that the daily charts show that there could be more lower highs created, so this retracement may just be a pullback. Watching the 7280 zone to break.
Other European equities show signs of beginning a downtrend. This is detailed in the video.
US Oil continues to frustrate the head and shoulder traders…just like Gold. Beginning to range here and would like to see a close below the 61.00 zone for further downside. If 63.00 is taken out, then the head and shoulders was a failed attempt.
Really like the USDCHF here. It displays a nice uptrend, and then a range, before breaking down. This chart displays 2 out of the 3 ways that markets move. The downtrend is the remaining move. We got the break but no further continuation.
The DXY remains at a support zone, so the next few daily candles will be quite telling.
Really like the USDJPY here on the 2 hour and looks good on the 4 hour chart too. It hit a nice flip zone, and after a long downtrend, has begun to range. Now waiting for a break and close above the psychological important 110.00 zone.
Just like the equities, a word of caution for yen pairs. They have broken big daily levels, and many of them look good for a retracement set up on the 2 hour charts.
The NZDUSD is showing signs of a potential uptrend, after a downtrend. Not the best looking trend chart, but we are seeing some semblance of a bottoming with a higher low swing for the uptrend. I also do like the large wick fake out candle which shows us that buyers stepped in around this zone. Again, not the best looking but what would make it better is if I see some sort of bottoming pattern here like a head and shoulders.
First of all, I want to start of with a yen pair that had a nice support zone break. I like this chart because it shows a nice uptrend, before ranging and now expect a downtrend. The 144 zone is key to see if we continue lower.
So yet again, I stress that a lot of these yen pairs look ready to make a lower high on the daily charts before continuing lower, however, the lower time frames give us potential signs to capitalize on these retracments. I am not going to dissect them all, but will just post the charts.
We have a good chunk of good Euro and Pound Sterling set ups for this week.
EURAUD got rejected at a resistance zone, and the large fake out wick shows you the strength of the sellers. Again, this is why we wait for candle closes!
We have had a nice uptrend with nice defined waves, and now we are beginning to range. Ideally, we would like to see so,e sort of topping pattern here. But a break and close below 1.6020 warrants our attention.
EURNZD is in the same boat. We an perhaps move a bit higher, but the large wick shows us there is a good wall of sellers. Watching for a close below the 1.70 zone.
GBPAUD is setting up nicely. Just waiting for the break, and there is plenty of room to the downside. Just reading price action shows us that buyers are trying to prop this higher, and keeps getting sold off around the 1.8650 area. Watching the 1.8550 zone for a break.
GBPNZD also with a large wick fake out candle and then a subsequent red candle lower. This cart is a bit more choppy, but we did have a nice candle close on Friday. Keep the 1.9620 zone in mind but the larger zone is the 1.9450 zone.
NZDCAD had a daily break below a support zone, and has retested support now turned resistance, and closed lower on Friday. I like this for a continuation lower.
NZDCAD was a pair that I have been watching for quite sometime now. We finally got the break we were looking for. We have retested the zone, and created a nice red candle on the retest. I like this pair going forward. Looking for the 0.8650 zone to be tested.
Bitcoin has broken above the flip zone around 58.30. This is an important zone and break. It will be interesting to see what happens with Bitcoin. I do not personally trade Bitcoin, but keep tabs on it. The bigger flip zone next is the 10,000 zone, but there is also a zone at let's say 8500 that you should keep an eye on.