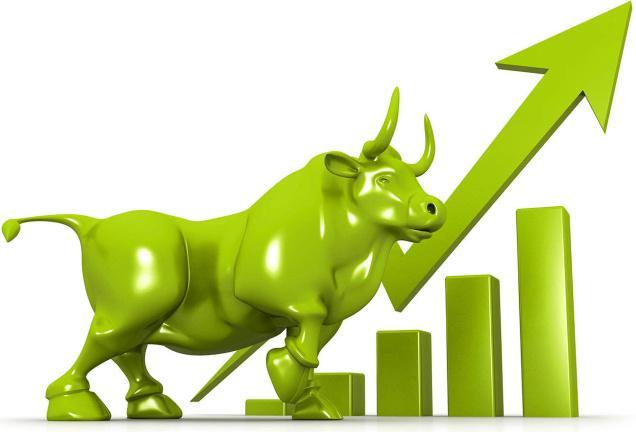 Two things that I have been speaking about have now occurred. We have new US market all time highs, and also we have gotten the US Dollar break. It is now about if these breaks can be sustained.
For the markets, I have outlined why stocks will go higher. We are in an earnings week, but to be honest, I believe this market cares more about Fed policy accommodation meaning rate CUTS and a return to QE.
We have our Federal Reserve Interest Rate Decision this week on Wednesday and not expecting much. More of a hold and wait…although there are even some analysts who think a surprise rate cut could happen…this would be a way to deal with the Dollar break out, but subsequently can just be dealt with by adopting a dovish tone. However, as I have said, the US Dollar will continue to go higher just due to the fact that it is a safe haven, world reserve currency, and really the US looks the best among the western nations.
We had our US GDP Q1 data which came out strong:
"The Bureau of Economic Analysis said Friday that gross domestic product registered a seasonally adjusted annual rate of 3.2% growth in the first three months of 2019, above expectations for a reading of 2.0% and an increase from 2.2% in the final three months of last year. "
The Bank of Canada remained on hold last week. Canadian 2019 GDP was downgraded from 1.7% to now 1.2% with Q1 GDP expected to be soft at 0.3%. Again, I am watching Canada or Australia to be the first nations to begin cutting rates, mostly for the housing market and the fact that consumers are up to their eyeballs in debt. Lowering rates will allow for more access to debt as real estate should go higher, allowing debt relief in terms of home equity. This may be the final wave upwards.
On the geopolitical front, President Trump has said that he will declassify the FISA documents… this can potentially be a blockbuster as it may prove that the Russia collusion story was in fact a way to overthrow the sitting President (treason). High member Democrats may be in trouble.
We had President Putin meeting Kim-Jong Un for the first time in Vladivostok. Will be interesting to see if President Putin can be the deal maker here. However, I have outlined in my post on the Thucydides trap how North Korea provides the US a great excuse for the American Navy to block Chinese shipping lanes. Also, the fact that the Americans want to remain in South Korea and Japan because if they leave, it is likely Japan and South Korea will join the Eastern sphere (South Korea showed interest in joining BRICS, Russia and Japan are continuously getting better relations and Russia is interest in Japanese manufacturing technology.)
The Economic Calendar will be jam packed this week with important data:
Tuesday: Poloz Speech.
Wednesday: US ISM Manufacturing PMI (April), Poloz Speech, Fed Rate Decision.
Thursday: GBP BoE Rate Decision, Chinese Caixan Manufacturing PMI (April).
Friday: US ISM Non-Manufacturing PMI (April), US NFP (April).
Some nice weekly closes on equities, with the American S&P and Nasdaq reaching all time new highs. You will probably hear this repeated a lot. The Australia 200 and Canadian TSX also closed into new highs, likely due to energy (oil).
It will be interested to see if we now hold these levels. For the American markets, I expect they will go higher due to accommodative Fed policy, will these raise other world markets? For China, I am hearing that the bank bailouts that were required were immense, and now the PBoC is saying there will be no more easy money…Kyle Bass had an interesting interview on HedgeEye youtube channel saying that the Chinese are actually trying to prop the Yuan up. He said that the Chinese are running low on US Dollar reserves, he also said that Hong Kong may have gone through 80% of their reserves trying to maintain their Dollar peg and there could be issues there.
What am I looking at? I have explained how it is likely we will see Bonds and Stocks move up together. It is entirely possible and probable. US equities to chase yield, and Bonds for price appreciation as investors expect rate cuts. I am watching the Russell 2000:
The Russell is the US mid cap stocks. Generally, this index is a good leading indicator on what the larger equity indices will do. I am expecting a break higher on the Russell which will indicate more US equity strength. If we do get a close below the swing at 1554.900, then I may have to reconsider.
The US Dollar had the long awaited break. This is interesting for all the macro world events that I have discussed. As the US Dollar gets stronger, the problems in the world exacerbate especially emerging markets with US Dollar denominated debt.
Let's see if the Dollar will remain this bullish move. The Federal Reserve may very well try to talk down the strength of the dollar, but again, I still believe the US Dollar will remain to go higher due to safe haven and world reserve status and the fact that America is still the best among the western nations. Eventually, they will have to "kill" the dollar to curb the strength which may involve cutting to zero but this is still something to watch for the future.
Gold has held up relatively well given the US Dollar strength. This should warrant your attention. Usually, Gold is seen as the anti-dollar, but I have stated that there will be a time when BOTH the US Dollar AND Gold move up in tandem together. Could this be it? Too early to tell, Gold can still reverse on the daily chart creating our first swing (lower high) after we broke the 1280 zone.
Gold will move up with the US Dollar because this occurs whenever there is some sort of confidence crisis. I believe this is coming and will see people run into both the US Dollar and Gold. Investors will initially go to the Dollar, but then will go to Gold when they find out that central banks are stuck and that the problems will occur when the dollar goes higher. People will front end the Fed having to "kill" their dollar, and all other currencies will be low anyways.
We created a bit of a head and shoulders pattern on Gold, and I am looking for another swing (higher low) before adding up. I am patient because I expect the Dollar to retrace and test the breakout zone, and I want to see how Gold reacts to this.
Silver looks good. It held the 14.80 zone. Ideally, I would want to see some sort of bottoming pattern here like a head and shoulders. If we can create a right shoulder with a break and our first higher low, I would be a buyer.
The USDCHF is interesting given the triple top we are forming. I like the long wicks showing a sign of sellers at the market. Watch the 1.0160 zone for a break. Essentially once we close below the recent swing.
EURGBP was one I was watching last week, and still on the list for this week. It is not the best looking chart though. It seems we are setting up for a reversal now after an uptrend. I expect a choppy market so will await the next few candles.
USDJPY was a trade I got in last week but got stopped out with the large wick. However, sellers did not allow a close above the break and we have now created our first lower high potentially if we break and close below the 111.42 zone. Will await for the break.
US Oil was a trade I took near the end of last week on the break of 65.50. It reached my profits, but I am looking to re-enter if we make a lower high. I would expect to see a bounce now before we make a lower high and subsequently break this 62.80 zone. President Trump did say he called up OPEC telling them to bring the prices down…
GBPJPY has both an entry on the daily chart and also an opposite 4 hour idea. It really is about how price will react at this support level. The 143.80 zone will be crucial. If we get a daily close below it would be a sign to short. On the 4 hour chart, you can clearly see the downtrend with its lower highs and lower lows. If we break above the recent lower high at 144.90 zone I would go long. Ideally, see a bottoming pattern like a head and shoulders or a double/triple top.
AUDJPY on the 2 hour chart is interesting. It can still actually go lower, but this early sign of a head and shoulders looks good. Waiting for the break if it comes, if not then I will watch for a bottoming at new support.
EURCHF was also a trade I took last week and we had quite the move. We have not created a lower high swing yet so I am expecting that here for another leg lower.